Conservation & Local History
The sea has been the main link with the outside world and provider of sustenance for many communities on Llyn for centuries. Two hundred years ago, farm goods such as butter and cheese were exported from small ports such as Porth Ysgaden.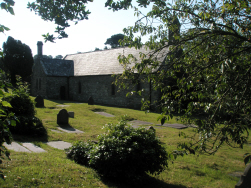 Farmers were also dependent on salting and selling herring. Eglwys Llandegwnning, a small and bare church, has a very unusual tower in the form of a pepper pot. Eglwys Llangian, however, is an unusually long church, first recorded in the 13th century. The oldest part of the present church is the roof, which dates from the 15th century.
The vast double church of Saint Engan, Llanengan, is particularly beautiful with much natural daylight. Pilgrims' offerings, kept in a large oak chest, made this a rich church. The screen and communion plates are believed to have come from Ynys Enlli (Bardsey)

The Afon Soch begins its journey in the vicinity of Mynydd Cefnamwlch, snakes its way through Morfa Neigwl and flows into the sea at Pen Cei, Abersoch. The Welsh word 'soch' is said to be the same as the word 'hwch' (sow). Vegetation along the riverbank provides shelter and breeding areas for mammals including bats, hedgehogs, badgers and maybe otters. It also forms a woodland corridor for a great diversity of bird species from owls and woodpeckers to tits and treecreepers. Caterpillars and other invertebrates feed on overhanging trees, and drop into the water. These, together with many aquatic invertebrates including the larvae of mayfly and caddis, provide an important source of food for fish.

Ysgol Botwnnog (School) was established in the 15th century by Henry Rowland, who later became Bishop of Bangor.

14 small ships were built in the harbour at Abersoch between 1774 and 1854. The beach at nearby Trwyn y Fach, which now belongs to the National Trust, is sheltered and popular.


The two St Tudwal Islands where, according to tradition, Saint Tudwal lived in the 6th century, are situated in the bay off Abersoch. It is said that it was once possible to walk from Ynys Fach (the smaller of the two, and the nearest to the shore) to Trwyn yr Wylfa on the mainland at a time of very low tide. A Trinity House lighthouse was erected on this island in 1877. Father Henry Bailey Maria Hughes and his followers attempted to re-establish a monastic society, but their monastery was destroyed in 1887 by an enormous storm. One of the islands is now owned by the TV personality & chief scout, Bear Grylls.



The Llyn Countryside Management Project was set up by Cyngor Dosbarth Dwyfor in 1985. Practical work is undertaken on public footpaths and protecting the landscape in order to safeguard the variety of wildlife, such as the chough depicted on their logo.